From May 10 to 14, 2021, the Planning and Training Workshop for the Coordinated Audit of the Socio-economic Aid Programs that countries have implemented within the framework of COVID-19 was held virtually, an initiative developed as part of the activities of the Working Group Specialized in the Fight against Transnational Corruption (GTCT) with the support of the German Cooperation, through the Deutsche Gesellschaft für Internationale Zusammenarbeit (GIZ) GmbH.
During the inauguration of the workshop on May 10, Dr. Valentina Zarate, Deputy Comptroller General of the State of Ecuador and Chair of the GTCT, welcomed the more than 300 participants. Representatives of the German Cooperation (through GIZ), the Canadian Audit and Accountability Foundation (CAAF), the United Nations Office on Drugs and Crime (UNODC), the INTOSAI Development Initiative (IDI), as well as the OLACEFS Working Group on Gender Equality and Non-Discrimination (WGEG), were also part of the inaugural event. The ceremony was broadcast in English and Spanish, and recordings in both languages are available at the following links: Spanish and English.
The planning workshop is one of the initial stages of the coordinated audit, and its activities focused on training the audit teams on topics related to the initiative. To facilitate the pedagogical aspect, on the second day of the workshop, international experts provided guidance on points to consider in the performance audit related to obtaining better results in the evaluation of socio-economic aid programs, in addition to emphasizing the importance of citizen engagement and communication strategies to obtain a greater impact on the results. Similarly, a virtual classroom was created on the moodle platform of the State Comptroller General's Office, where the main materials and activities to be carried out by the teams were posted.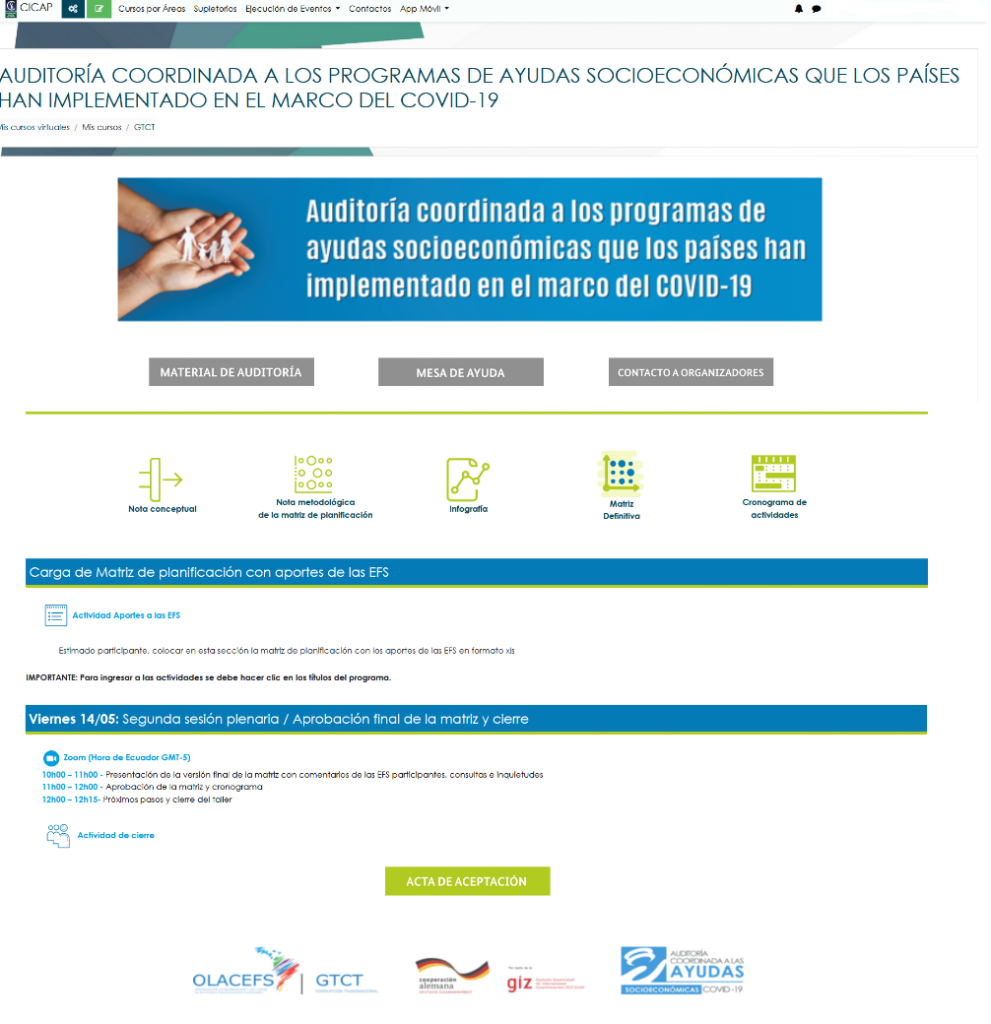 Based on the discussions, the validation of the planning matrix and the indicators, the participating SAIs will begin with the execution of the coordinated audit around the following axes: (1) preparation, (2) planning, (3) implementation, execution and follow up; and, (4) accountability.
It should be noted that this initiative seeks to evaluate the level of preparedness of the States to attend and execute socioeconomic aid programs, focused on meeting the basic needs of vulnerable groups of the population during the health emergency, in the period between January 1, 2020 to December 31, 2020.